Gender Studies & Cultural Studies. Estudios de género & Estudios culturales. Études sur le genre & Études culturelles.
GRAAT On-Line - Book Reviews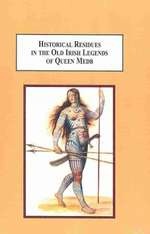 Diana Dominguez, Historical Residues in the Old Irish Legends of Queen Medb: An Expanded Interpretation of the Ulster Cycle (Lewiston: The Edward Mellen Press, 2010). $119.95, 320 pages, ISBN: 978-0-7734-3649-7—James Friel, Liverpool John Moores University
Medb is the Irish warrior queen who plays a pivotal role in the body of tales that make up the Ulster Cycle, a mythic history of Early Ireland. Cú Chulainn is its chief protagonist, but Medb, the first wife and chief rival to his uncle, Conchobar, King of Ulster, plays a major part in the tales, most particularly the longest and most significant, the Táin Bó Cuailnge or 'Cattle Raid at Clooney' in which, unable to gain a highly prized bull with offers of land, money or sexual favours, Medb raises an army to steal the bull, a feat she manages at the cost of many lives. Such ruthlessness is as much part of Medb's character as is the refusal to be abashed by her circumstances. Married off by her father, she leaves Conchobar, King of Ulster, who then marries her sister. Medb kills this pregnant sister, and a child is delivered posthumously, a caesarean by sword.
The son, Furbaide, will later prove Medb's nemesis, but before then Medb is made Queen of Connacht, a throne she then shares with her lover, Tinni. Conchobar rapes her. Tinni dies avenging her rape in the ensuing war. Rape is, then as now, a military tactic*, but Medb also uses sex as a weapon, as a means to an end, a way of ennobling or humiliating the men she encounters.
Medb marries again, insisting her husband remain free of jealousy in the face of her many lovers, one of whom will kill this compliant husband.She has seven sons, but even they are weapons in her armoury. She has been told that Conchobar will be killed by a man called Maine, and so all her sons bear this name.
There is, also, one luckless daughter, Finnabair, who will die of shame, a condition that her mother may know well, but to which she never submits. Medb lives to old age, as often a victor as she is a victim, and is killed by Furbaide, the son of the sister she murdered. While Medb bathes in a lake, he kills her with a sling he has loaded with cheese.
Medb is said to be buried in a cairn on top of Cnoc na Ré in Sligo, upright and facing her enemies in Ulster. Even in death, she is ready to fight. The tale of her death is a late written addition to the cycle, stories that are set in pre-Christian Ireland. These oral myths, their mongrel and no longer extricable mix of fact, fiction, myth and propaganda were transcribed by monks between the fifth and twelfth centuries, the characters and events the subject of debate and further rewritings and retellings ever since.
Just as the spelling of her name—Medb, Meadb, Meadhbh, the modern Irish Méabh, and the Anglicised Maeve—has been subject to shifts in time and circumstance so have interpretations of her character, role and importance. She has been variously read as a pre-Christian Goddess, a historical being, a consort not untypical of her time and place, a figure wholly mythic, the creation of Christian propaganda, a victim of patriarchy, a feminist heroine in need of defending, and an angry and troublesome sexual warrior. There are mythologists who make out the very shape of her mythic body in the contours of Sligo's generous landscape.
John Berger wrote that when "a story is being retold every word becomes a code word describing a Here and Now." Dr. Diana Dominguez's task in this exhaustively detailed but always readable book is to make us aware that the "Here and Now" is always a moveable date, that there are several "Here and Nows," and each one creates a Medb it cuts to its own fashion. Medb and the tales she inhabits have always been as much about the "Here and Now" in which they were first conceived, the "Here and Now" in which they were compiled and transcribed and each subsequent age that studies them and re-interprets them.
With painstaking care and formidable precision, Dominguez provides a fresh and refreshing reading of Medb: "not one subsumed by a mythological perspective that makes her, ultimately, a passive object as she is appropriated for patriarchal political purposes, or a character so associated with misogyny that she becomes nothing more than an icon of oppression and ridicule." [277] Dominguez does not discard either of these readings, but merely sets them side by side, along with other readings and approaches so that a much more richly faceted presentation of Medb is possible. This is Dominguez's achievement. Medb is granted all her dangerous energies, her troublesome characteristics, her courage and high status. She is a villain, a victim, a queen as ruthless as her rivals, a woman not entirely unique in her time, but one indefatigable in the face of others.
The desire to transport Medb to our "Here and Now," to make Medb modern, to make her our contemporary, to rescue her from the misunderstanding past is not Dominguez's intention. Her intention is to present Medb as faithfully as she can, and this is what is achieved in this invigorating study. The actual Medb, the Medb of Myth, the Medb of scholarly dispute, the Medb as medium onto which notions of Irish womanhood have been projected are all here, and these pages present a Medb that Dominguez's rigorous mind has made coherent and persuasive by presenting and accepting Medb in all her diversity.
*Martz, Erin, Trauma Rehabilitation After War and Conflict: Community and Individual Perspectives, Springer, 2010.
© 2011 James Friel & GRAAT On-Line