Gender Studies & Cultural Studies. Estudios de género & Estudios culturales. Études sur le genre & Études culturelles.
GRAAT On-Line - Book Reviews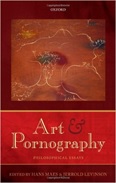 Hand Maes & Jerrold Levinson, T Art & Pornography: Philosophical Essays Oxford: Oxford University Press, 2012 / 2015). £33.75 / £19.90, 335 pages, ISBN 978-0-19-974408-5 - Charles Joseph, Université François Rabelais, Tours.
The challenge of publishing a book on art and pornography in 2012 was very real given the fact that the field of academic research on the subject was already rather well advanced, and the existing bibliography available at the time was also quite rich. One could easily mention the works of Linda Williams (Hard Core: Power, Pleasure and the "Frenzy of the Visible" published in 1989 and Porn Studies in 2004), Jean Baudrillard (De la Séduction, 1980), Drucilla Cornell (The Imaginary Domain: Abortion, Pornography and Sexual Harassment, 1995, Feminism & Pornography, 2000), Isabelle Tang (Pornography: The Secret History of Civilization, 1999), Alan Soble (Pornography, Sex and Feminism, 2002), Lynn Hunt (The Invention of Pornography, 1500-1800: Obscenity and the Origins of Modernity, 1996), Matthieu Dubost (La Tentation Pornographique, 2006), Walter M. Kendrick (The Secret Museum: Pornography in Modern Culture, 1997), Susanna Paasonen (Carnal Resonance: Affect and Online Pornography, 2011), James Stoner & Donna Hughes (The Social Costs of Pornography, 2010), Frances Ferguson (Pornography, the Theory: What Utilitarianism Did to Action, 2004), Jessica Spector (Prostitution and Pornography: Philosophical Debate About the Sex Industry, 2006) or Rae Langton (Sexual Solipsism: Philosophical Essays on Pornography and Objectification, 2009). The list of books printed before 2012 goes on, and with the academic rise in porn studies, the number of published works on the subject has increased significantly since the late 2000s. Integrating a book in this already vast publishing continuity was thus quite audacious as it needed to take the critical thought further in the broad field it wished to encompass, art and pornography.
Edited by Hans Maes and David Levinson and published by the Oxford University Press in 2012, Art & Pornography: Philosophical Essays sets its goals and structure very clearly in the book's introduction, written by the editing duo. The collection of 14 essays is aiming at 'clarifying, enriching, and invigorating' [13] the ongoing debate about the complex relationship pornography has entertained with art (or is it the other way around?). The book is divided into four main themed sections. The first one centers on 'Pornography, Erotica, and Art,' the second one on 'Pornography, Imagination, and Fiction,' the third one on 'Pornography, Medium, and Genre,' the fourth and final one on 'Pornography, Ethics, and Feminism.'
The first chapter is composed of four essays, aiming at discussing the more general correlations existing between art and pornography. It is also one of the most stimulating of the book with Alex Neill's 'The Pornographic, the Erotic, the Charming, and the Sublime' which grounds its theoretical lexicon on Schopenhauer's aesthetic theory. In doing so, Neill provides a rather original take on the subject, resulting in a new normative discourse through which to apprehend pornography. Two other essays of this first part are also worth reading as they have the merit to present asperities and disagreements within the debate that truly helps to further the overall reflection. David Davies' essay, 'Pornography, Art, and the Intended Response of the Receiver' argues that pornographic art can be identified as well as there is a religious art or a political art or any other art form that has a 'non-artistic primary intended function.' [66] In 'Is Pornographic Art Comparable to Religious Art? Reply to Davies' Levinson dissents from Davies' argument, giving the reader the full extent of the debate surrounding the postulate of artistic pornography.
The second chapter, composed of three essays, shows a notional fluctuation that shifts radically from the opening part and from the original scope intended by the book. Art was considered in more empirical terms throughout the first chapter and it was clearly the founding principle and prism through which pornography was analyzed. Artistic and aesthetic considerations are pushed so far back in the second chapter, that they become almost irrelevant in terms of intellectual tropes. Whether in Cain Todd's 'Imagination, Fantasy, and Sexual Desire', in Kathleen Stock's 'Pornography and Imagining about Oneself' or in Christy Mag Uidhir and Henry John Pratt's 'Pornography at the Edge: Depiction, Fiction, and Sexual Predilection', the questioning around art and through aesthetics that seemed so vivid in the first chapter suddenly dissipates. The essays themselves, as part of a reception-study approach, are all very well-written, very interesting and thought-provoking, but they ultimately fail to fit within the framework set by the opening chapter.
The third part is composed of three essays that interrogate pornography through different mediums. 'Why Do Porn Films Suck?' by Petra van Brabandt and Jesse Prinz focuses on pornographic films and try to identify a pornographic cinematography. In doing so they also discuss the frontier separating cinematographic works such as that of Virginie Despentes or Catherine Breillat or any other non-simulated sex scene in films from pornography and the debate that these films have stirred. Michael Newall's essay 'An Aesthetics of Transgressive Pornography' focuses on literary works written to provoke sexual arousal in the readers. As such, Newall's questions the imaginative process of these works and illustrates effectively the fictive dimension discussed in the second chapter. However, this essay could have been linked more effectively with those of the second part, as they are taking sometimes very different yet combinatory stances on the imaginative component of any pornographic work. It would also have served a stronger questioning of what pornography is… a given image vs. an image-ined situation. The third essay 'Anti-Pornography: André Kertész's Distortions' by Bence Nanay is searching the opposite stance to pornography in the Hungarian's photographer's 1933 series. Though the choice to discuss an anti-pornographic work might seem alluring, the study of Kertész's work can be debatable. Though sometimes referred to as erotica, the photo series is not a pornographic work producing an anti-pornographic result, and countless other artistic work could count as anti-pornographic. What might have been interesting in questioning this postulate would have been to find a truly pornographic work, one whose primary intent is to be pornographic but which resulted in anti-pornographic ends.
The fourth and final part 'Pornography, Ethics, and Feminism' is probably the most questionable one. Indeed, two essays are clearly linked with ethics while the other two are linked with feminism. Brandon Cooke's 'On the Ethical Distinction between Art and Pornography' and Elisabeth Schellekens' 'Taking a Moral Perspective: On Voyeurism in Art' both take a more empirical approach to art and pornography, a method that echoes that of the first chapter in these two very engaging reads. But Andrew Kania's 'Concepts of Pornography: Aesthetics, Feminism, and Methodology' and A. W. Eaton's 'What's Wrong with the (Female) Nude? A Feminist Perspective on Art and Pornography' both seem a little more problematic in this last part and this volume in general given the phenomenal amount of work that has been published regarding pornography in a feminist perspective. What also seems debatable is how those two essays fit within the general intent of the book and of this particular chapter. Kania's demonstration appears quite reductive (if not marginal) within the more generalist questioning under way in the volume; and Eaton's essay too descriptive to lead to any broader considerations to fuel the debate. It feels as if these yet very stimulating essays were taken from a feminist perspective on pornography and inserted here as they do not really bring anything in relation to the art-pornography
We could regret the absence of a conclusion in which the editors could have tried to tie the essays together and draw convergence lines that might have helped to make better sense of the book's structure regarding its ambitious title. Left as such, the four parts do not seem to participate equally in the debate regarding art and pornography. We could also regret that no one in the selected essays mentioned the 'porno chic' artistic trend with Aslan, Helmut Newton or David LaChapelle, all considered as key figures of this artistic movement which permeated pop culture, notably through fashion. The omission to mention Morse Peckham's book Art and Pornography which was published in 1969 also appears as one of the present volume's shortcomings. Finally, one can also deplore the absence of any mention of gay or lesbian pornography and their aesthetics.
Overall, this volume seems to have aimed for a result quite different from the one reached by the actual collection of essays. Nonetheless, the first chapter does bring some very stimulating ideas to fuel the debate over the links between art and pornography, and most essays in the second, third and fourth parts are worth reading when related more clearly to the different fields of research they belong to. One year after this volume, Hans Maes edited Pornographic Art and the Aesthetics of Pornography (2013) which probably offers a clearer analysis than what Art and Pornography actually achieved.
© 2016 Charles Joseph & GRAAT On-Line